Doreena's Testimony
Doreena is a fourteen-year-old Garifuna girl from the village of Seine Bight in Belize. She was almost the first person inside our Seine Bight church the Sunday we opened the doors for the first time. Doreena expressed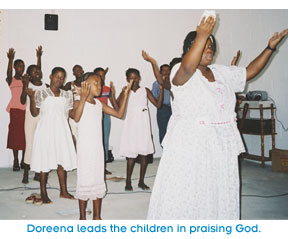 an interest in singing and leading the new church in praise and worship. We spoke to her a few times afterward and helped her put together a choir and praise team. Since that time, she has been very instrumental to the growth of our church body in this very oppressed and dark village. She helps with children's church and organizes activities for the children.
Doreena has encountered much persecution for her devotion to Christ and His church. She has been excluded from activities in her village, talked about, and put down because she continues to come every time we open the church doors. She has told us that no matter what persecution she suffers, she will not waiver from what God has called her to do. In November of 2004, we had a dedication ceremony for our new church building and our congregation to God. Doreena stood up before the church body on dedication Sunday to share her testimony.
Doreena shared with all of us how she had been persecuted, and called "Pastor's girl". She said her friends had said she followed the white man and she was looking to profit personally from what she is doing. Doreena told the church that no matter what people continue to say about her or what names they call her, she will rejoice in her persecution, because she read in the bible that if we are for Christ, we will be persecuted. So, she has decided to pray for her persecutors. She is praying they will have a personal relationship with Christ and understand that her relationship with Jesus is her reason for participating in church activities, and not for personal gain. She is doing all she can to share the love of Christ with her village and her lost friends. She is praying for her friends and she has no ill feelings against them.
Please pray for Doreena to continue in her walk with Christ and to be strong in faith and courage. She is an admirable young woman and God is using her to reach the young people of Seine Bight.