Dugu Dance Mali HüNGüHüNGü GUNGAI PUNTA WANARAGUA Abaimahani MATAMUERTE CHARIKANARI and other garifuna dances integrates the physical and mental processes, encourage verbal responses, and promote health. A comprehensive dance experience has the potential to address the development of the whole human being. The Official Website of Seine Bight Village Mastered by Benjamin Palacio Belize, Caribbean, Central America, cultural, culture, cultures, dance, dancer, dancers, dances, dancing, destination, destinations, drum, drummer, drummers, drumming, drums, emotion, emotional, entertain, entertaining, entertainment, feel, feeling, feelings, Garifuna, Garifuna dancers, Garinagu, group, holiday, holidays, indigenous, intense, intensity, music, musical instrument, musical instruments, musical, musician, musicians, native, natives, passion, passionate, passions, percussion, percussive, perform, performance, performances, performer, performers, performing, performing arts, performs, play, rhythm, rhythmic, rhythms, Seine Bight Dancing with drums is an integral part of Garinagu in Seine Bight.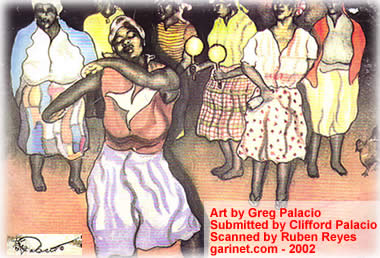 Seine Bight Garinagu Dance With Drums
Everywhere you go in Seine Bight you will hear punta music. It is the heartbeat of our lives, a means of worship, of entertainment and of social commentary. .
Garifuna drums are typically made of hard wood, such as mahogany or mayflower. Using fire, water, and gouges, the drum maker hollows the wood out into symmetrical cylinders. Skins prepared of the deer,peccary, or sheep are stretched across the cylinder head. Thin metal wire or strings are strung across the drum to serve as shares. The drums are always played with hands.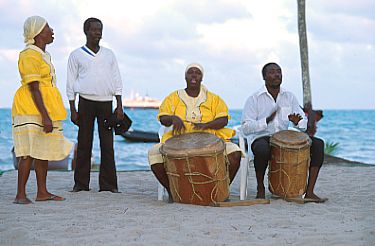 In addition to the drums, rattles (moracas/sisira), couch shells used as horn, turtle shells and guitar is commonly used.
The songs are performed in a type of call and respond manner. Many Garifuna songs are composed by someone relating their own family experiences, social events, etc. New songs are constantly emerging, often coming to the composer in dreams or visions.
Dance is an integral part of the Seine Bight Garifuna Village. It plays a role in rite and ritual and serves social, recreational entertainment, and artistic purposes. Dance integrates the physical and mental processes, encourage verbal responses, and promote health. A comprehensive dance experience has the potential to address the development of the whole human being. The important nonverbal experience of dance is difficult to define; yet there is general agreement that dance activity shares the following characteristics: (1) aesthetic intention – or the need to externalize an internal state (of both emotion and idea): (2) communication of nonverbal information through movement; and (3) social or ritualized interaction with others, as individuals or in groups, with audience or with partners.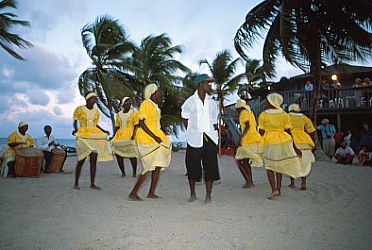 The Garifuna repertoire includes work songs for men and women, lullabies, hymns, healing songs, ballads, and many types of dancing songs.
PUNTA
– The most popular dance, performed at wakes, holidays, parties, and other social events. Dancing as couples, style. Everyone try to out-do one another with sexy movement that sometimes borders on the vile to vulgar. Everyone takes a turn and the competitive spirit is high.


HüNGüHüNGü
- A circle dance which appears to be a secular version of the sacred dancing of the dugu, the Garifuna feast for the Ancestors. Drums play a simple three-beat rhythm and everyone sings in unison.


COMBINATION
- An exiting alternation of punta and hunguhungu rhythms.


WANARAGUA
-
Also known as John Canoe, this is a victory dance. Dressed with fanciful headdresses, knee rattles, and in whiteface, John Canoe dancers mimic their colonial masters. Wanaragua songs are composed and led by men and danced in a thoroughly African style.


MATAMUERTE
– This mime dance depicts a group of people finding a body along the beach and poking it to see if the person is alive, perhaps with too much entusiasm.


GUNGAI
– A graceful dignified social dance, in which each man dances with each woman in turn.


CHARIKANARI
– In this mimed dance a hunter meets up with a cave man and a cow.


SAMBAI
– After a short salute from the drum, each dancer jumps into the circle to display some fancy footwork.




Abaimahani Group of Seine Bight.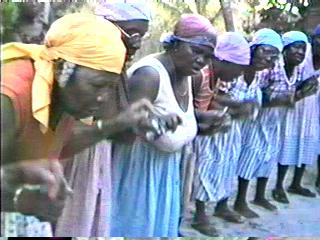 Abaimahani Group of Seine Bight.